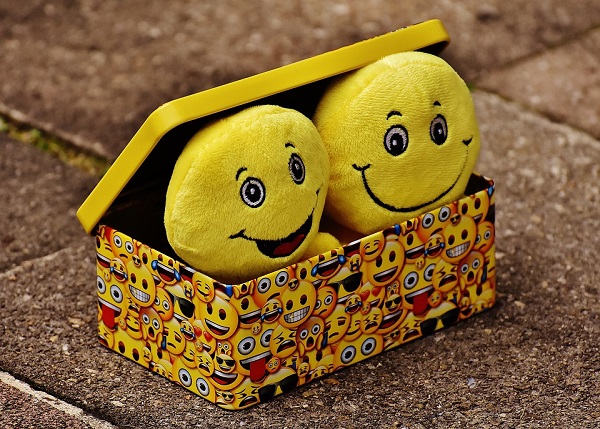 Emojis are a fun and creative way to connect with your customers on a more personal level and show your brand's personality.
Use Emojis on Facebook
Facebook is one of the biggest adopters of emojis in one form or another. You now have ways to tell others your mood, from emojis to feelings. Businesses are even now using emojis on Facebook to respond to customers, convey an emotion, and speak their customers' language. They can help make customers feel like your company listens and cares.
For example, A beverage company created a social media game called Emojiball. Users were given a choice of 24 emojis and had to post five of them with a specific hashtag to play. People who guessed the correct emoji combination won a prize. They spread the word about Emojiball primarily through Facebook and Twitter, and enjoyed unprecedented user engagement as a result.
How to post different emojis.
To share how you're feeling just click the smiley face icon in the bottom left of your update and choose an emoji that best reflects how you feel about your post. Another type of Facebook emoji called meeps are highly expressive Facebook stickers. You can use meeps the same way you would use any emoji.
To post a meep, click the smiley face icon beside your comment and select your favorite meep. Remember that an effective emoji marketing campaign should make your ads or posts clear. Do not force emojis where they don't belong. At best, you'll confuse your customers. At worst, you may drive them away.
Incorporate Emojis in Your Tweets
Don't underestimate the power of emojis to connect with your audience. Many brands/ people have tweeted more than 110 billion emojis since 2014. And now that Twitter advertisers can target people who have engaged with particular emojis, there are many more marketing opportunities.
Why are emojis so popular on Twitter? With only 140 characters to work with, emojis let you put into practice the old saying "a picture's worth a thousand words." Don't waste the limited allowance typing out what you can convey with an emoji instead.
When the Beatles catalogue launched on Spotify, Spotify developed fun ways for their followers to celebrate the Beatles with emojis, eg A designed custom Beatles emoji and paired it with the hashtag #BeatlesOnSpotify. According to Twitter, this emoji and hashtag combo:
Greatly influenced the 6.5 million listeners in the first 100 days of the catalogue
Made #BeatlesOnSpotify 4x more popular than #Beatles during the launch.
Gave Spotify an 83% share of the conversation at launch, even though seven other streaming services also released the catalogue.
You can easily post emojis to Twitter via your computer if you know the shortcut or just visit a site like GET emoji to copy and paste any symbol you desire!!!
Use Emojis on Instagram
Instagram might be all about photos and videos, but if you take a look at the comments, you'll probably notice that emojis are supreme when engaging. While emojis are a fun way to show expression such as "Wow!" or "I love this!", they've also been used in some clever marketing.
A recent movie used emojis in both their paper advertising and social accounts. On Instagram, @deadpoolmovie released a series of Deadpool emojis so fans could share their feelings with their favourite superhero.
Adding emoji's to your Instagram comments is simple and easy. Today, brands worldwide are using emojis to connect with their audience on a more personal level than ever before.