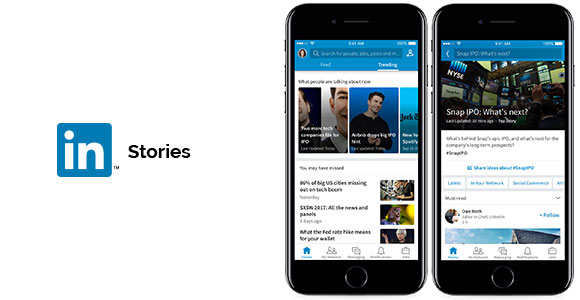 LinkedIn has launched LinkedIn Stories worldwide, an opportunity for individuals and company pages to publish photos and short videos via the mobile app. So, can the feature bring a little Instagram glamour to the networking platform?
What does LinkedIn Stories look like?
The Instagram-style format will enable brands to reach out to members using photos and videos of up to 20 seconds in duration, offering a more casual and immediate way to share news, insight and highlights.
Such posts will only be viewable for a 24-hour window and represent efforts by the professional network to capitalise on the popularity of video as part of a shift in emphasis towards visual mediums and mobile.
Members and brands will also have the ability to incorporate text and customised work stickers in Stories.
Once published, stories appear in tappable bubbles at the top of a user's LinkedIn feed on mobile. When tapped, they display in a full-screen 9:16 format.
From here, viewers can send a story via direct message, making quick and casual conversations easier on the platform.
4 Ways to Incorporate LinkedIn Stories into Your Marketing Strategy
Much like the introduction of Instagram Stories, LinkedIn Stories offers a huge opportunity to create a stronger, more personable dialogue with your audience.
LinkedIn Stories Strategy #1: Encourage Thought Leaders to Give Professional Tips
LinkedIn is a huge platform for professional thought leadership, and this new "snackable" format is a great way to showcase your in-house knowledge in a fun and engaging way.
LinkedIn Stories Strategy #2: Share Real-Time Event Updates
LinkedIn Stories only have a short lifespan, which makes them perfect for sharing less polished, off-the-cuff content straight from a live event. 
LinkedIn Stories Strategy #3: Host a Corporate Q&A
Just like Instagram Stories, LinkedIn Stories provide an awesome way to show a more human and authentic side to your brand on social. 
LinkedIn Stories Strategy #4: Share Brand Announcements and Product News
Much like Instagram Stories, the feature allows users to share images or videos that last for just 24 hours.
If you're one of the first few brands using LinkedIn Stories, the chances are you'll be gaining a huge amount of extra airtime with your audience on LinkedIn.
With that in mind, it could be a great idea to use this new platform to share all your important brand updates — even if you have a feed post about them too.
Whether you're sharing job opportunities or a product launch, capitalising on this new channel to reach more of your audience is definitely a good move!