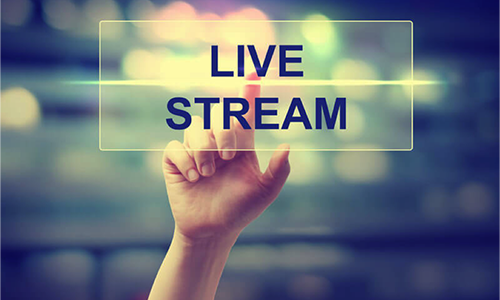 Facebook introduced Facebook Live back in summer 2015, Originally made available only to public figures, the feature was eventually made available to everyone in early 2016. And it's quickly rising in popularity – brands like Tough Mudder, BuzzFeed, and Tastemade in particular have made great use of Facebook's live-streaming option, boosting both their overall audience size and engagement rates.
Ans while many users are still figuring out what works well with their viewers, some clear best practices are starting to take shape.
If you're considering venturing into live broadcasting, or want to see how Facebook's streaming platform compares to other options like Periscope, check out these tips on how to plan and execute your own Facebook Live strategy to maximize your impact.
Before Your Broadcast
1. Consider your orientation
If you're using the iOS app, you can choose between broadcasting vertically or horizontally (the option is not available in the Android app at this stage). You also have the option to change your perspective from the main camera to the selfie camera as needed throughout your broadcast so you can share more with your audience.
2. Plan ahead
Don't go live without a plan. At the least, you need to know what you're going to talk about over the course of the stream.
Better yet, take a few practice runs with the privacy set to "only me" before you get started.
The longer you spend broadcasting, the greater your chance of discovery – Facebook actually advises that you should try to broadcast live for at least 10 minutes. But at the same time, don't intentionally drag out your videos to make them longer than they need to be.
Planning ahead of time will also ensure you have content to draw from – like extra questions for the Q&A interview – in the event that your live comments slow down.
3. Choose the right time
Wouldn't it be great if there was a magic perfect time to broadcast for maximum impact? There's not, of course, it depends entirely on your audience – what works for one page may or may not work for your own.
So how can you determine what works the best? Conducting your own tests is the best way to determine when your audience is most active and receptive, but refer to your Facebook Insights to begin with to get some understanding of when your followers are online. Experiment with a few broadcasts, and you'll find the sweet spot that works for you.
4. Promote the heck out of it
You're more likely to have a bigger live audience if people are expecting you to be live at a certain time. Even if you say something like, "I'll be live in a hour" rather than, "Join us on [date] for a Facebook Live video…." Some advance notice is better than none at all.
According to Facebook, Pages that hint at future broadcast times yield higher viewership than those that do not.
5. Write a killer description
Your video description can be the difference in determining whether someone tunes in or not, so make sure you take a moment to compose an enticing summary of what your live stream is about.
During Your Broadcast
6. Don't neglect lighting and sound
People need to be able to see and hear you – if they can't, they'll stop watching, and they may or may not give you another chance with a future broadcast.
If the area you're recording in is fairly dark, try turning on a lamp or going outside. If too much natural light comes in, invest in curtains, or change the angle you'll record from. Don't put a light behind you – it will wash you out. If the area you're in is too loud, make sure your microphone is of high enough quality to cancel out the noise.
7. Provide context
At the beginning of every broadcast, introduce yourself and whatever it is you're doing in each video, or whatever the focus is. As additional live viewers come in, repeat the focus of the video intermittently so people know what's going on.
For example, use a simple reminder like: "If you're just joining us, we're talking about… today. We've already covered X, X, and X, so jump right in and hear how we're…"
8. Be authentic and personal
Relax. Smile. Be you. If you're comfortable, your audience will be, too. If you're not… well, then they won't be either.
Also, try to go beyond just reading comments and questions and greet viewers by name. Encourage people to engage with suggestions and follow up questions. Getting personal will make everyone feel like they're a real part of the experience, and like you value them and the time they're spending with you.
9. Monitor and respond to comments
Live reactions are part of what makes Facebook Live so attractive to users and Page owners alike. When you first get started and don't have many live viewers, this won't be a big issue, but as you grow, you'll want to make sure you're listening and responding where you can.
You can increase engagement and interaction by addressing comments live on air, and inviting more people to contribute their thoughts. Also, comments don't disappear, so if there's anything you need to go into more detail on, you can reply after the broadcast is over.
If you're worried about being overwhelmed by the broadcasting and responding, enlist someone's help so you have a person completely dedicated to comment replies.
After the Broadcast
10. Post a comment after the show
When your broadcast is complete, post a comment on the thread to let everyone know you appreciate their views. If you had more feedback than you could address in the video itself, let them know you'll reach out with more information via private message, email, or that you'll expand on the topic in a future video.
Take the time to reply to comments as you see fit – especially if you couldn't address the audience member directly by name in the video. This encourages more comments and questions which will drive additional news feed activity and engagement.
11. Keep promoting
Often the views of your video after the live broadcast is done will exceed the live views – especially the older the archived video becomes. Just because the live broadcast is done doesn't mean you shouldn't keep promoting the video content to your audience.
Clearly, you don't want to promote too much because you'll sound like a broken record and risk annoying your followers, but don't let those content assets go to waste. You can even go outside of Facebook to promote your Facebook Live videos, using other social media platforms to direct people to your page.
Get Ready to Rock
Facebook Live has many potential benefits, including increased engagement, the ability to establish better relationships with your audience, enhanced news feed visibility, the creation of content you can re-purpose… the list goes on.
You don't have to be a professional videographer to do well with the platform, but as you build a library of content, you may want to consider investing in more equipment to improve your video quality.
But whatever you do, stay true to the things your audience loves about your company and have fun with it.