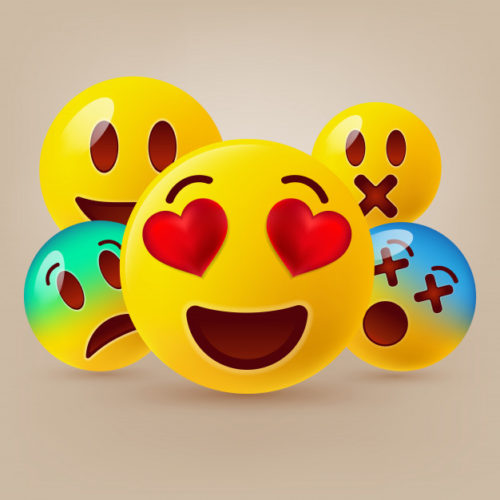 As you have probably noticed, using emojis is a trend that is here to stay, since these small images can mean the world to your business in terms of Marketing, here we will show you why.
What are Emojis and How Are They Different from Emoticons?  
Before we begin, it is important to go over what an Emoji is, these images are widely used on Facebook posts, Twitter and many other Social Networks. That way we can see the difference between emoticons and how this difference represents a cultural technological leap.
Lets begin with Emoticons.  an Emoticon is a small composition of characters used in western writings where the conjunction represents a human emotion, for example: 🙂 (=happiness, good mood, etc.).
The fact is that emoticons are composed exclusively of simple characters and this has to do with technological limitations from when they emerged in 1982, when computers only supported basic text characters.
On the other hand, Emojis were created at the end of the 90´s by a Japanese communications company NTT DoCoMo, and from then their use has increased and used all over the world.
It should be noted that different from emoticons, Emojis not only represent human emotions, they also represent various types of situations, objects, humans and places. This includes from hospitals, to plates of spaghetti, families with children, extraterrestrials and even weather conditions.
Why and How To Use Emojis on Social Media?
To be precise
As the famous word says, "less is more", and this applies perfectly to the way Emojis work.  Emojis  have the power to communicate a lot with little (just a simple view is enough to make sense), and this is why it is recommended for all the Social Media strategies.
 To attract millennials to its contents
As you may already know, "millennials" are people who spent their adult life during the change of the millennium, or those who were born in the 80's or at the beginning of the 90's.
Based on their historical circumstance, these people lived exposed to Emojis and they communicate daily by using them on different social media platforms. That is why, if you are trying to sell a product or service to the population, we recommend strongly that you use Emojis in your publications.
 To transmit happiness
As we mentioned above, Emojis are capable of  amplifying all types of emotions transmitted in a message. Now, in terms of Digital Marketing what is needed is for people to associate positive emotions with your business or proposal. To achieve this, there is nothing better than to use happy Emojis!
To tell stories
Children are not the only ones who enjoy a good "story with pictures". In fact, the expressive power of Emojis is such, that their presence can multiply the impact of your message enormously.
Add Emojis to your publications as much as possible and let us know the results… We bet they will be very positive!