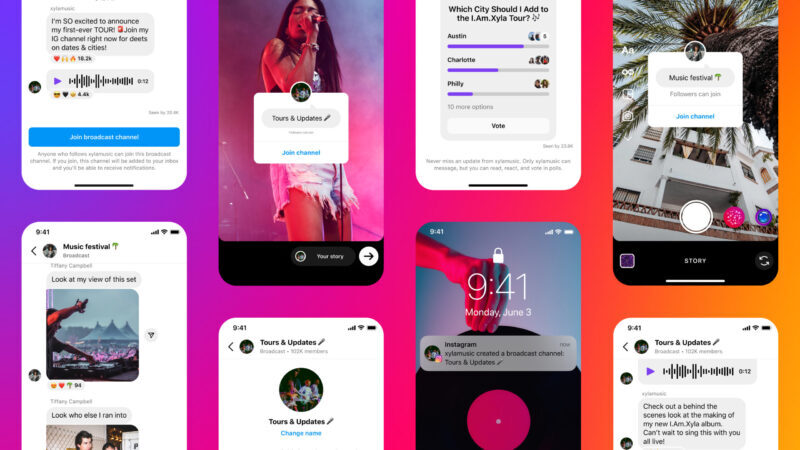 So, what is Instagram Broadcast Channel?
Broadcast channels are one of the latest Instagram features. They allow creators to send direct messages to their followers. For the receivers, it's like a mass WhatsApp group text you can't reply to. Anyone with a Creator account on Instagram can access it and open up their one-to-many group chat
Why Create an Instagram Broadcast Channel?
You can use broadcast channels to share content you want a specific group of people to see. That group could be people you want to give exclusive access to your Instagram content (like a behind-the-scenes look).
Or it could just be the people who have indicated that they are engaged followers (by joining your channel), so you know you'll get better responses from them than putting up an Instagram Story or sending DMs one-on-one.
How to Create a broadcast channel on Instagram?
This feature isn't available to everyone. Only available for CREATOR ACCOUNTS
As an Instagram creator, you can create a broadcast channel to share messages like announcements, behind-the-scenes content and event details, or upcoming collaborations with your followers.
Followers that join your channel will be able to react to messages you send or vote in polls you create in the channel, but they will not be able to send messages. Since your broadcast channels are public, they are discoverable by anyone on Instagram, but only your followers can join.
Keep in mind that when you share organic branded content in a channel, our branded content policies require that you use the paid partnership tool to indicate when a commercial relationship has influenced a message.
Create a broadcast channel
Instagram app for Android and iPhone
Tap or in the top right of feed.
Tap in the top right.
Tap Create broadcast channel. From here you can:

Enter a channel name.
Choose an audience for your channel.
Choose when your channel ends.
Choose to show your channel on your profile.

Tap Create broadcast channel at the bottom.
You can find your broadcast channels in the Instagram app by tapping
or
in the top right, then tapping Channels at the top.
Invite others to join your channel
There are a few ways to invite people to join your broadcast channel.
When you send the first message in your broadcast channel, all of your followers will receive a notification inviting them to join the channel.
You can also invite people to join by:
Sharing an invite link to your channel. Note: The invite link to your broadcast channel can't be turned off. However, you can reset it to generate a new link at any time.
Adding the channel to your stories. As the creator and admin of a broadcast channel, you can share your channel to a story. Learn more about what admins of broadcast channels can do on Instagram.
Sharing a message from the channel to a story by tapping and holding a message in the channel, then tapping Share to story. Your story will include an image of the message. People that can view your story can tap the image of the message to find and join the broadcast channel.
If you would like any further information on this blog, or help with your social media, please contact us at info@smashsocial.co.uk.